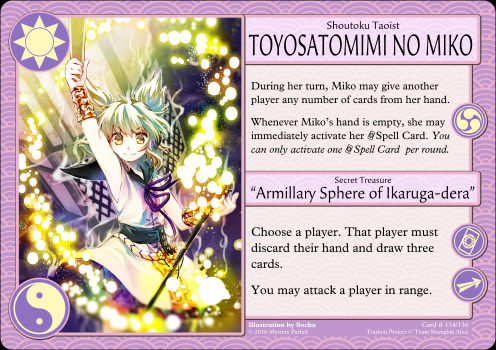 Name:
Toyosatomimi no Miko
Ability:
During her turn, Miko may give another player any number of cards from her hand.

Whenever Miko's hand is empty, she may immediately activate her

Spell Card

.

You can only activate one

Spell Card

per round.
Spell Card:
Secret Treasure — "Armillary Sphere of Ikaruga-dera"
Spell Card text:
Choose a player. That player must discard their hand and draw three cards.

You may attack a player in range.
Card FAQ and errata
Miko can use her

Ability

to give cards to other players any number of times on her turn.
Miko can activate her

Spell Card

normally on her turn, such as by playing an

Invocation

card.
Miko's

Ability

to activate her spell card can trigger even when it's not her turn. For instance, if Miko plays the last card in her hand to avoid an attack, she can immediately activate her

Spell Card

. This ignores regular timing restrictions.
Miko's

Ability

does not trigger if an effect causes her to discard then draw cards, such as Tempest.