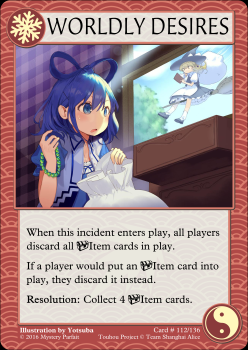 Card name:
Worldly Desires
Text:
When this incident enters play, all players discard all
Item
cards in play.
If a player would put an
Item
card into play, they discard it instead.
Resolution:
Collect 4
Item
cards.
Card FAQ and errata
It is possible (and likely) that this incident resolves automatically as soon as it comes into play. If this happens, do not draw a new incident until the next player's incident step.
Players may voluntarily "play"

Item

cards in their hand in order to resolve this incident.
Item cards "played" while Worldly Desires is in play never enter play. Thus a player would not draw a card from Sorcerer's Sutra Scroll.