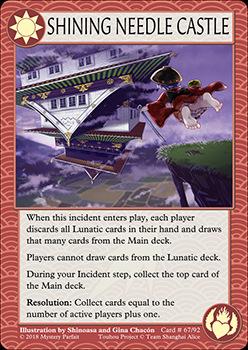 Card name:
Shining Needle Castle
Text:
When this incident enters play, each player discards all Lunatic cards in their hand and draws that many cards from the Main deck.

Players cannot draw cards from the Lunatic deck.

During your Incident step, collect the top card of the Main deck.

Resolution: Collect cards equal to the number of active players plus one.
Artist:
Shinoasa and Gina Chacón