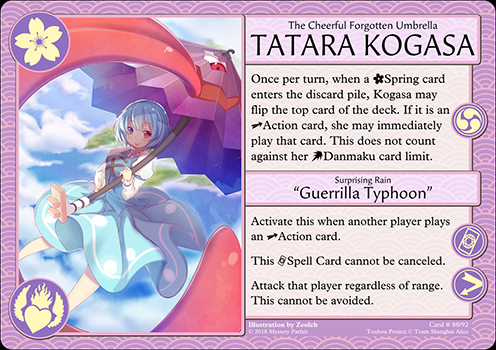 Title:
The Cheerful Forgotten Umbrella
Ability:
Once per turn, when a
Spring
card enters the discard pile, Kogasa may flip the top card of the deck. If it is an
Action
card, she may immediately play that card. This does not count against her
Danmaku
card limit.
Spell Card:
Surprising Rain — "Guerrilla Typhoon"
Spell Card timing:
Reaction
Spell Card text:
Activate this when another player plays an
Action
card.
This
Spell Card
cannot be canceled.
Attack that player regardless of range. This attack cannot be avoided.
Card FAQ and errata
If Kogasa reveals a Capture Spell Card using her

Ability

, she cannot activate an

Action

type

Spell Card

in this way.