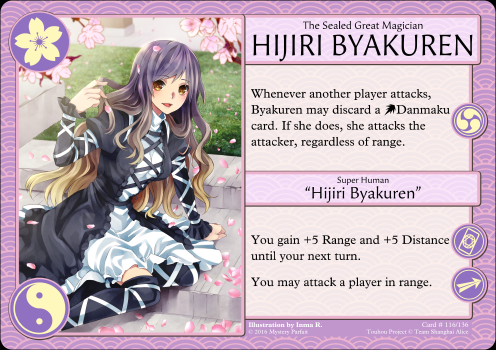 Title:
The Sealed Great Magician
Ability:
Whenever another player attacks, Byakuren may discard a
Danmaku
card. If she does, she attacks the attacker, regardless of range.
Spell Card:
Super Human — "Hijiri Byakuren"
Spell Card text:
You gain +5 Range and +5 Distance until your next turn.

You may attack a player in range.
Card FAQ and errata
Discarding a

Danmaku

card to Byakuren's

Ability

does not count as playing a

Danmaku

card. It cannot be cancelled by Bomb and does not count against her

Danmaku

card limit.
When activating Byakuren's

Spell Card

, she can take the +5 range into account when choosing targets for the attack.