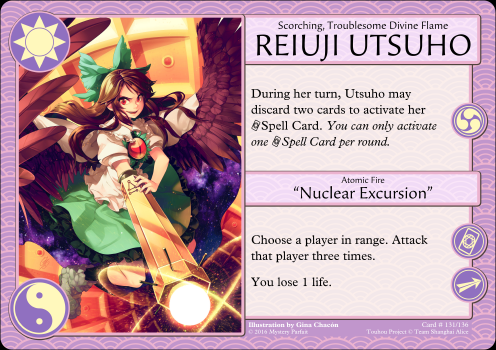 Title:
Scorching, Troublesome Divine Flame
Ability:
During her turn, Utsuho may discard two cards to activate her

Spell Card

.

You can only activate one

Spell Card

per round.
Spell Card:
Atomic Fire — "Nuclear Excursion"
Spell Card text:
Choose a player in range. Attack that player three times.

You lose 1 life.
Card FAQ and errata
Utsuho can activate "Nuclear Excursion" even if she is at 1 life. Utsuho will still lose life even if she defeats her target. This loss of life will cause Utsuho to be defeated if she is not brought back to at least 1 life (such as with 1UP) before all cards are resolved.
If Utsuho and the last player alive are defeated at the same time, the game ends in a draw.